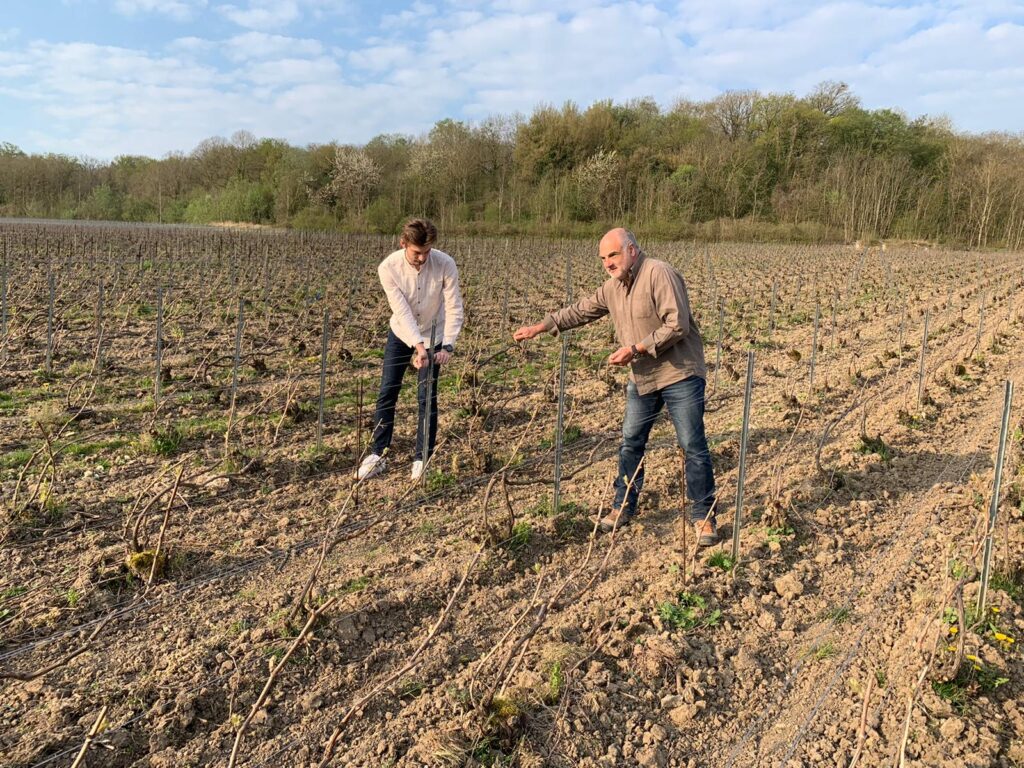 I arrived in Reims on a morning train in early May
To be sure to make it there in time for lunch with a family who has made a name for itself in this, the city of French kings and champagne. This being my first trip to the region, I was not entirely sure what to expect. Of course, I recognised the names of the major producers based in Reims itself – Krug, Ruinart, Taittinger – as well as those in Épernay, just to the south, such as Moët et Chandon and Pol Roger. But today I wasn't pausing for a stroll around the city centre and a visit to the famous cathedral; instead I was headed about 10 kilometres east of Reims, to the town of Berru.
I was in Champagne as a guest of the producer Jacques Picard, a family-run estate. Some preliminary research told me the basics: Roger Picard, then mayor of Berru, planted his first vines in the 1950s in a region that had been abundantly planted before the destruction caused by the front lines of the First World War. By the 1960s Roger's son Jacques was producing his first champagnes under his own name. Today, it's Jacques' daughters Sylvie and Corinne who have inherited responsibilities, and the Estate is currently managed by Corinne's husband (and my host for the day), the genial José Lievens. I was impressed to learn that Champagne Jacques Picard is produced entirely on the family farm, with the Picards themselves overseeing everything from the planting of vines to the marketing of their champagne. This makes them the only Récoltant-manipulant in the village.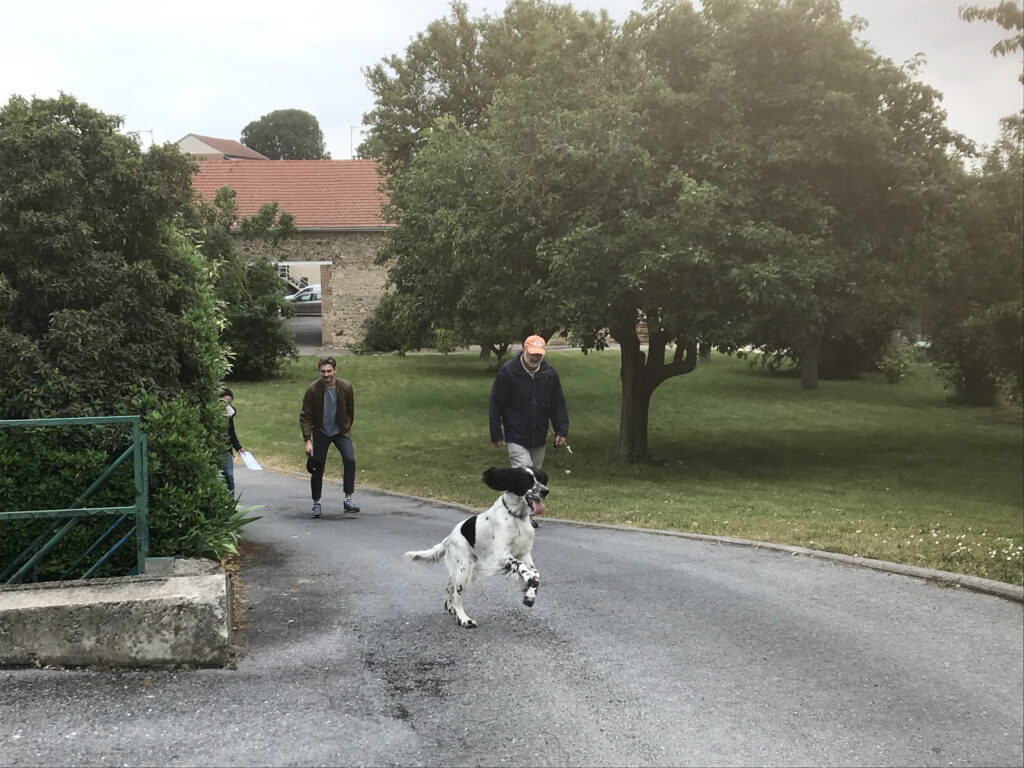 With a wave and a smile, José's eldest son Théo stepped forward to offer me a double-kiss hello at Reims station.'Welcome to Champagne!' he greeted me. 'I hope we can live up to your expectations.' Theo ushered me past wine tourists and commuters into one of those zippy, compact cars the French seem to prefer. As we sped away from the station, I wondered whether we would head straight to the vineyard, assuming the Picard-Lievens family must live on the property, but instead Théo drove to a village 3km from Berru called Witry les Reims.
During the drive, he pointed out the vineyards we passed and we chatted about his marketing studies at university. Although he only works for Champagne Picard occasionally, it wouldn't surprise me if he found his way back to the family business one day – winemaking seems to be a career that holds onto people.
We arrived at the house and Théo again surprised me as he was the one preparing our lunch, offering me a glass of wine and some of the first cherries of the year from the garden while he worked – very sweet, indeed! Perched on a stooI at the kitchen bar, I was impressed at his proficiency in the kitchen and dexterous wrangling of the various appliances, and said as much. Théo shrugged off the compliment – 'it's a small thing to help out my parents, who are so busy in the vineyards!' he acknowledged.
With lunch nearly ready, José and Corinne arrived and greeted me warmly. Despite my imperfect French, it seemed no icebreakers were needed: by the time the couple had discussed whether we ought to dine indoors or out, and the heavy wooden table was set in the corner of a spacious, farmhouse-style room, I was ready to eat. Naturally, we began with a champagne tasting, featuring the Jacques Picard Cuvée Prestige 2008 and Art de Vigne 2008. (One recent sommelier report described the 03 Art de Vigne as having an 'elegant but rich nose with almost tropical fruit, citrus fruit and candied lemon peel.')
I found my place at the table and fell into easy conversation with the couple over slices of the local pastry, Boudin blanc, from the nearby village of Rethel.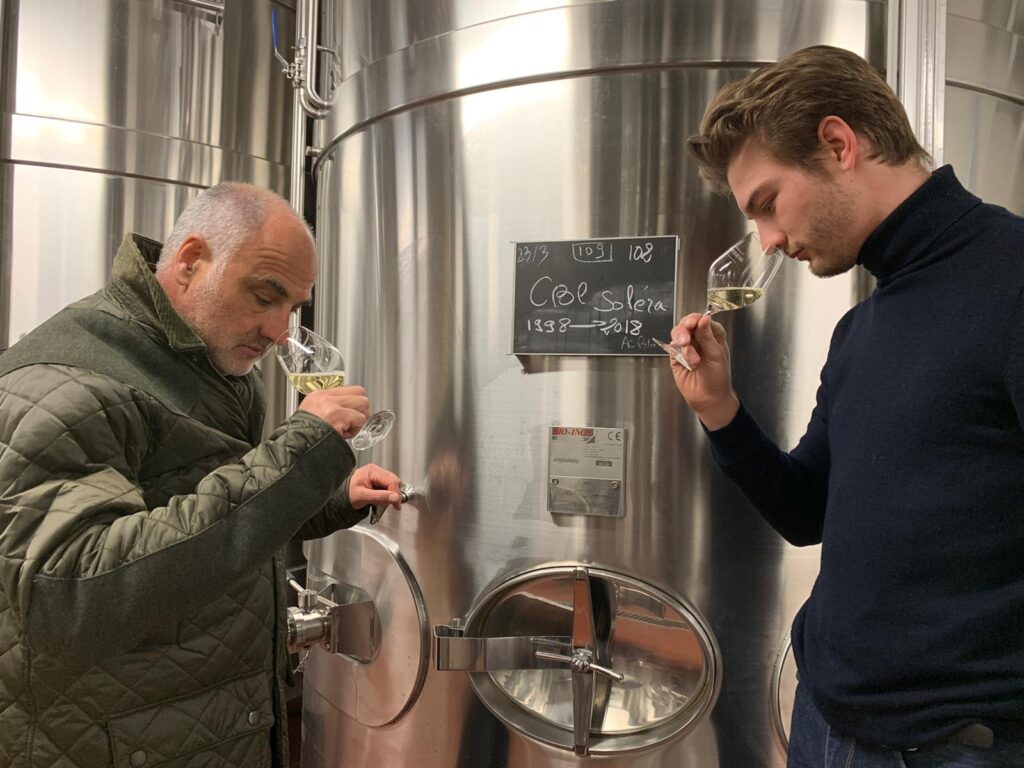 José's reigning passions seemed to be winemaking and history, and I learned that he had previously worked in the Côtes du Rhône as an oenology consultant before becoming involved with the Picard estate when he married Corinne. 'She puts up with a house full of men,' José laughed, 'but we all know who is boss!' Opus, a 3-year-old English springer spaniel (and José's most loyal employee), thumped her tail under the table in agreement.
Before we pushed back our chairs and stood up, José probed discreetly as to what type of champagne I preferred. Although I certainly enjoy a glass of champagne, I would be exaggerating if I said I knew much about the different varieties – so I tried as best I could to describe the tastes I enjoy, something fresh and flowery, with crisp fruit. José, of course, understood immediately what I meant, and I breathed a sigh of relief having apparently passed my first exam. (Later, reading reviews of the estate champagne, I was pleased to note that Decanter observed in the Picard champagne reserve an 'overtly fruity, smoky nose with red puree fruit reinforced on the palate, all very frank and charming with a lively chalky texture binding it all together. Fulsome and happy!') With that, we headed to the vineyards.
José is training the roots of the vines to grow deeper into the soil rather than spreading broadly, so that the soil can breathe and remain workable.
José told me that recently they've been seeing only spit rain in the region. It's not my idea of ideal spring weather – nor, apparently, it is ideal for champagne producers; after weeks of dry weather, the vines are parched and in desperate need of a drink. Without it, the champagne producers will struggle to grow enough berries for the harvest – which would be a shame as forecasts for 2020 were looking promising after a tricky, changeable 2019.
Under normal circumstances, José begins his day at (or, depending on the season, even before) daybreak, rising at 5 am, and heading directly to the vineyard where the 30 vineyard employees are beginning to assemble. During the recent lockdown period, only a handful were permitted to work, so it has been a relief to see the loosening of restrictions. José then spends all day out in the fields or at the winery.
The Picard vineyard, which encompasses just 17 hectares (although the Picards also manage some neighbouring vines on behalf of Pol Roger), is primarily planted with Chardonnay.
As we stepped between the vines, José instructed me to touch the leaves. I was impressed by how structured the vines were, and how, despite the winemakers' efforts to train them in a particular direction, it still felt as though they were going their own way. For José, these vines are like old friends: they can be moody but under his guidance they perform their best.
José walked me through the processes he has been working to implement in the vineyards in order to farm in a more natural manner, with less reliance on chemical fertilisers and pest control each year. For instance, he is training the roots of the vines to grow deeper into the soil rather than spreading broadly, so that the soil can breathe and remain workable. This way, when the vintners deposit organic compost to nourish the vines, it can more easily penetrate and reach all of the roots rather than just those sitting at surface level.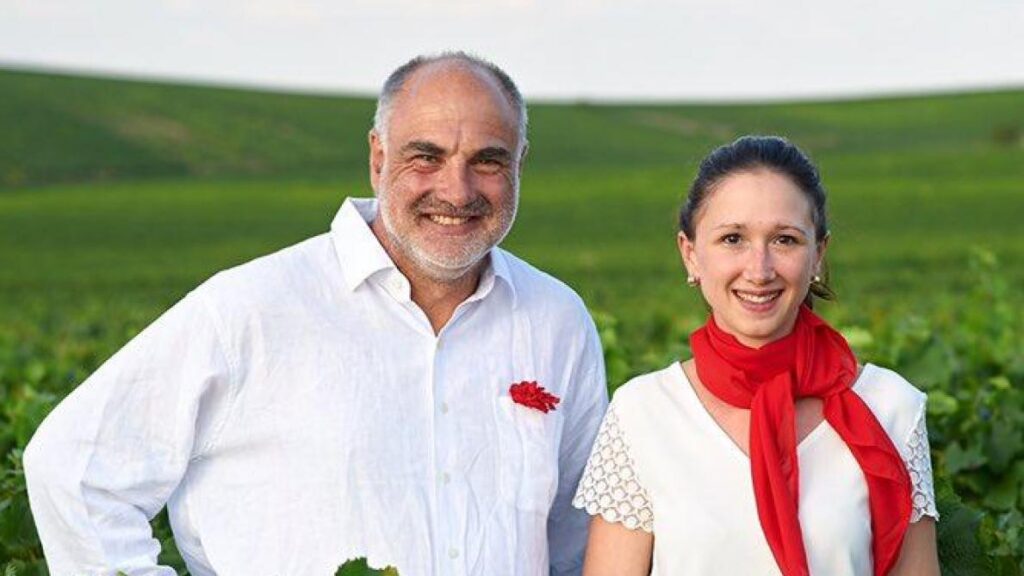 "It's really important for a winemaker to grasp as broad a knowledge of soil, weather and chemistry in different climates as possible."
The bushy shoots of the vines themselves, meanwhile, are braided around training wires at an early stage, rather than trimmed – a much more laborious process, certainly, but José finds it yields better results. By training the vines in this manner, José is able to ensure that nutrients remain in the vines themselves, rather than reaching only the outermost shoots or being lost into the atmosphere.
As we reached the entrance to the winery, I was welcomed by José's niece, Sylvie's daughter Fiona. An early interest in the family business ('I began asking questions when I was about three years old,' she laughed) led her to pursue a degree in oenology at the Université de Reims Champagne- Ardenne, after studies at ISA Lille and an exchange semester at Texas A&M University.
Various industry internships followed. 'It's really important for a winemaker to grasp as wide knowledge of soil, weather and chemistry in different climates as possible,' Fiona explained. 'I could have come straight to France but if I had only ever worked in one region I would have had a really narrow understanding of wine production.'
'Being a winemaker is constantly evolving profession', José confirmed. 'We're all constantly learning by doing, and evolving on the go.' At Jacques Picard, each plot is vinified separately, in order to identify its unique characteristics.
After a long maturation – 3 years on lees, at minimum – the champagne is blended by José and Fiona. At this point Fiona took over from her uncle to walk me through the production process. In 2009, the winery added an extension to the building, which, I am told, has enabled Jacques Picard to increase its production capacity by 60%. The winery had also invested in a new blending machine (pressoir). I was delighted at the chance to taste the 'vin de base', the un-blended wines, straight from the tanks. For the past 2 decades, Champagne Picard has employed the solera technique, a labour-intensive process aimed at maintaining a reliable quality and a house style. (About 10% of previous years' vintages is mixed into the 'vin de base'.)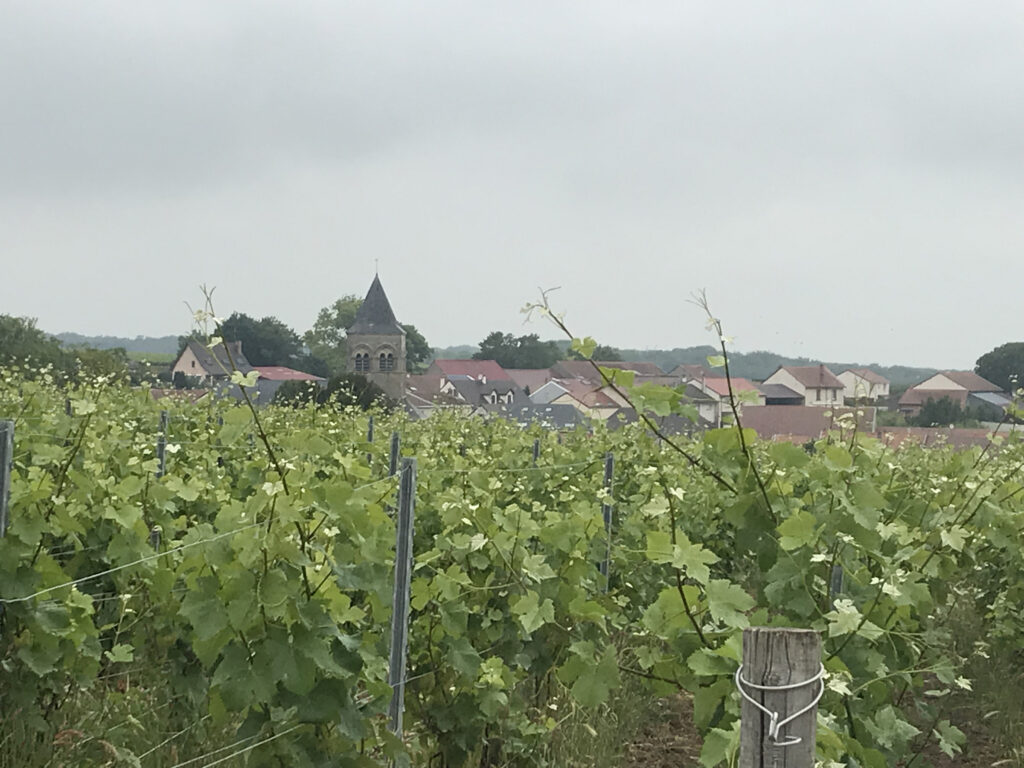 'She notices every detail,' José said fondly of his wife, 'while I understand things better when I take a step back and look at the whole picture. It is why we are a successful team!'
At this stage José joined us, and poured me a taste of Le Binet, a 1998 Chardonnay solera, which struck me as youthful, flowery, fruity, sweet and almost innocent. In more mature examples, the aromas had become more perfumed – still youthful but with a bit of gravitas, I found. José is a winemaker with an incredible and intense passion – I loved listening to him talk about Le Binet, asking me questions about what I smelled, what I associated those aromas with, and how it made me feel. All answers were good answers, and all seemed to satisfy him. It's clear that he enjoys the pleasure his wines bring to people. I confess I was reluctant to spit during the tasting and would have happily finished my glass, but I was doing my best to look professional so I copied Fiona and Théo who had joined us for the tour. Théo's occasional interjected comments confirmed my early observations about his natural affinity for the business.
I was also treated to a tasting from the barriques, in which some of the reserve wines are aged before being blended, a process that contributes an entirely different set of tastes and aromas. It was also more like I had imagined my experience to be, away from the shiny industrial feel of the steel tanks and in cool, dim rooms surrounded by rows of barrels. Next I was shown the bottling facility – where rows of bottles on conveyor belts sailed past in methodical, mesmerising rows – and we continued through to the packing machine, where Corinne was overseeing the packing of the 2014 Brut NV.
Jacques Picard exports mainly to the UK and, perhaps more surprisingly, Southeast Asia, places like Vietnam and Burma.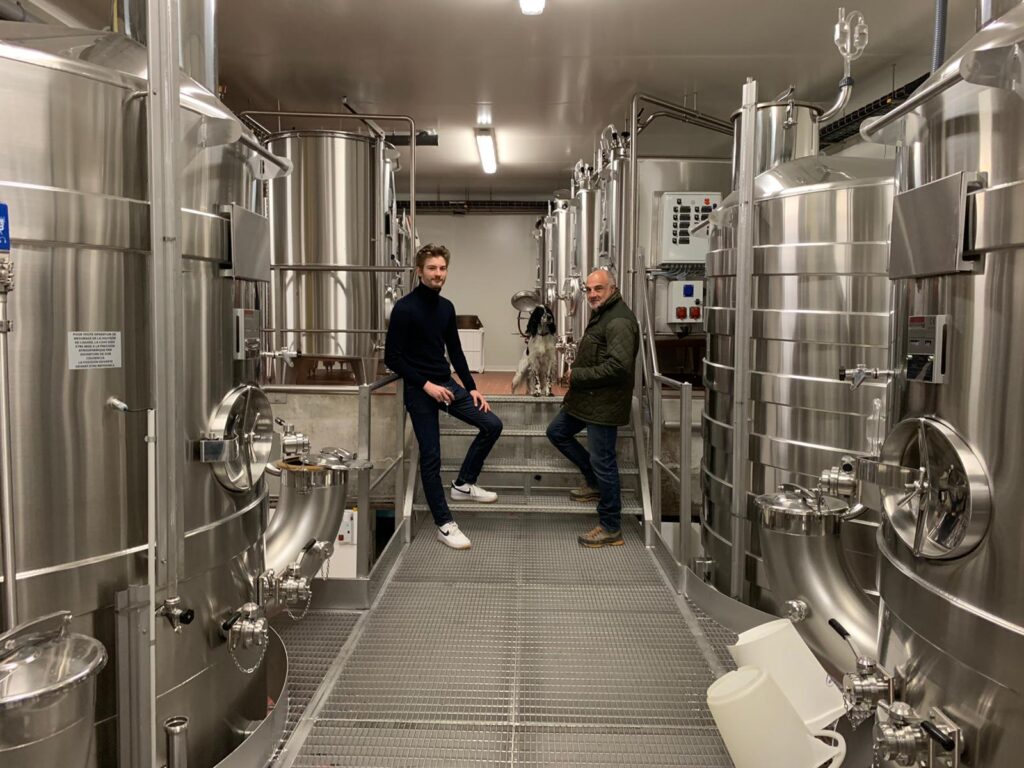 I asked José what initially motivated him to embark on such an ambitious project, and what drives it forward. 'The future,' he replied.
Champagne Jacques Picard has been in transition to become a fully organic vineyard since 2013, when José made the decision to completely abandon chemical fertilisers rather than transitioning in a more gradual manner. It has been a substantial – not to mention expensive – undertaking for a relatively small champagne house, and I asked José what initially motivated him to embark on such an ambitious project, and what drives it forward.
'The future,' he replied. 'I want this estate to remain relevant to Théo's generation, and Fiona's; it was really their initiative from the beginning. Young people are very aware of the importance of sustainable farming, and I want this to be a family product that they can be proud of – and a company that they are proud to run after me.' Looking around me at the healthy vines winding their way out of the chalky, limestone-rich soil, I can only imagine they will be.
After so many tastings, I told José that I was thirsty and looking forward to drinking some more of his champagne! Thankfully the tour ended with a proper glass.
Enquire About Membership